Discover more from Weighted
Investment news, thought pieces and companies research in Asia and occasionally - Beyond!
SembCorp Industries "Free Gift"
Demerger of SembCorp Marine from SembCorp Industries via Distribution in Specie
SembCorp Industries will be distributing SembCorp Marine share to SCI shareholders after the 8th September 2020.
The problem with receiving anything that looks and feels like "free" is that…
Behavioural Reaction:
For the uncles and aunties who had forgotten that they had own shares in SembCorp Industries (SCI), they would most likely continue to chuck it in the "CDP" storeroom and forget about it

The professional investor whose mandate cannot invest in a smaller size company such as SembCorp Marine (SCM) will need to dispose it ASAP .
The "free present" from SCI will be disposed on the market with ferocity. This need to dump the shares should force SCM prices to drop below their recently issued right issue of SGD 0.20.
We are actually more interested in SCM than SCI as there is higher chances of mis-pricing (who wants to be involve in Oil and Gas services now?).
In addition, for SCM there is possibility of
Temasek restructuring SCM with Keppel Marine (We know the story is a tad stale but it should still happen)

oil market recovering (even more stale, since SCM will only be a beneficiary after sustained improvement in oil prices and oil development)
In any case, we are still not pulling our trigger for SCM until we see more recovery in the marine sector. But if we are to receive our SCM for free and believe that SCI will continue to tread higher, maybe we have a trade going for us.
---
SCI on the other hand, does not seem to be priced for the ESG angle. With wind energy, floating solar panel, they seem to be the perfect fit for ESG funds.
The investing community seems to be pricing in the conglomerate discount on SCI (post de-merger) while we believe that the discount should narrow in the future as SCI become less of a conglomerate but a utility and dividend player.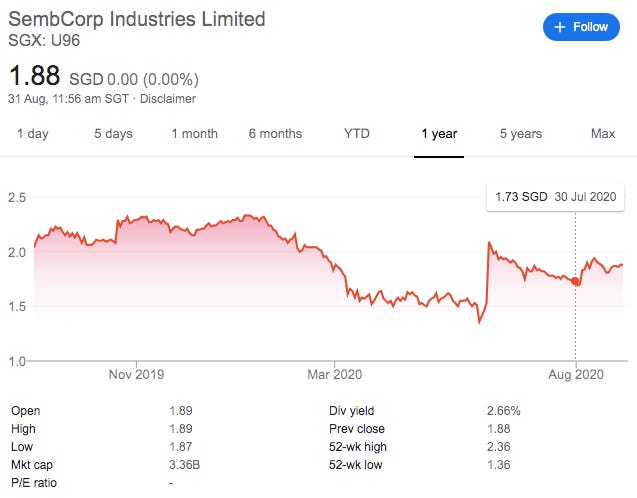 InvestQuest did a good writeup on the situation. The main items had been de-risked and we are just left with valuation and catalyst. We agree with InvestQuest that SCI is cheap, but with the demerger, institutional investors may have to exit both SCI and SCM as the separation had made both too small to invest.
Selling pressure could be high for both on ex-distribution on 8th September 2020.
Maybe SCI may be primed for a serious mis-pricing too?
For this situation, we will continue to wait.
The re-rating for SCI will not come so soon and the swapping of the type of investor (from institutional to mid/small cap investor) in SCI will take some time. The current depressed price could be seen as a reflection on the change in shareholder type.
We will be keeping a close eye on how both SCI and SCM trade in the days ahead.