Discover more from Weighted
Investment news, thought pieces and companies research in Asia and occasionally - Beyond!
Cyclical Portfolio #2 + Special Situation
Mining with insider buying, an activist investor + a Spinoff to boot
The problem with the Singapore listed companies is that nothing seems to be happening most of the time. But for oversea exchanges , the entrepreneurs are always trying to do something. While that may feel like financial engineering for most, it does create some value.
We will cover a mining company - an area which we feel inept to do so but we are hopeful of a Cyclical position + special situation as highlighted above. We are still in the midst of building a position in the company and will bring it to 1% of our portfolio.
This position forms part of our Cyclical and Turnaround portfolio.
---
We are talking about a mining company today. If it is a mining company dealing with iron ore, copper… then this newsletter would have not provided any value to you.
How about a South African mining operation, mining Manganese (not exactly something you can point a finger to), listed in Australia?
That should put off a lot of investors and that will be where we start.
Let start with Manganese and South Africa.
Manganese is used in carbon steel production. It is required to give steel both strength and flexibility. For every tonne of steel, approximately 10 kilograms of manganese is required. 90% of manganese production goes to the steel industry. South Africa is the largest producer of Manganese in the world.
The company we are talking about, owns a 49.9% stake in the largest single manganese mine in South Africa and is one of the five largest manganese exporters to the global market and the company is Jupiter Mines Limited (JM).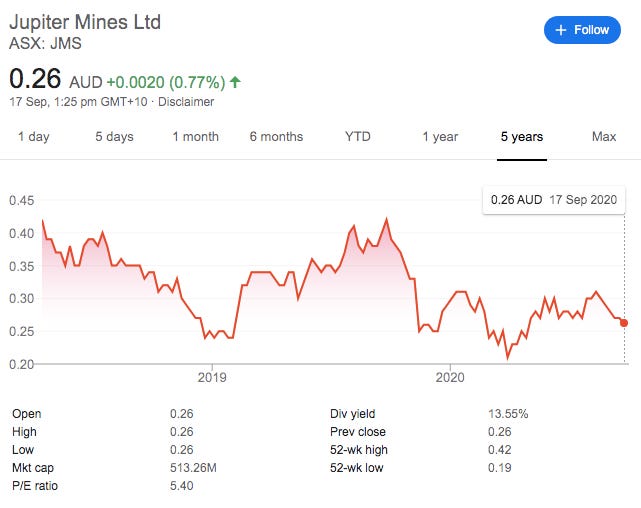 Jupiter Mines (ASX listed: JMS:AU) has a 49.9% share in Tshipi e Ntle Manganese Mining Proprietary Limited ('Tshipi'). Tshipi operates the Tshipi Borwa Manganese mine located in the Northern Cape of South Africa.
We will not go into the details, but we will highlight the unique set of condition surrounding JM and why we think the special situation will play out quickly in the next 6 months.
---
Insider Purchase:
Gilbertson - Chairman of JM (and the former CEO of BHP Billiton) had bought 10m shares at AUD 0.29 in July 2020. That should give you some assurance that the current price is decent.
CEO Priyank Thapliyal also did purchased 23,497,667 shares from EMG Jupiter L.P. in an off market transaction in May 2019, making him a top 10 shareholder of the Company.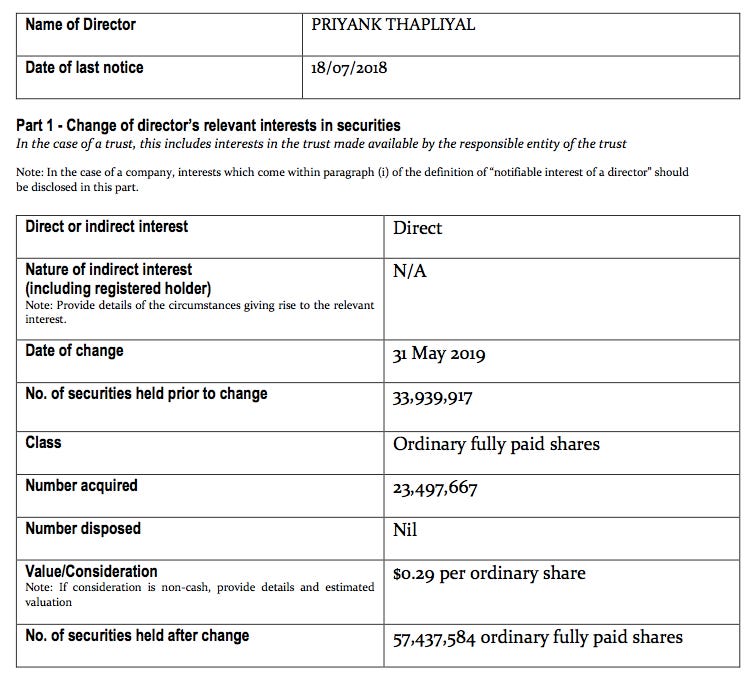 If we buy at prices today, we will be getting it at prices lower than the top 2 management in JM.
Activist/Strategic Investor:
In 2020 AGM held on July 2020, there is a large block of shares voting against the adoption of the remuneration report and Hans Mende is voted in as one of the director of the board.

Mr Mende co-founded AMCI Group, which is a substantial Jupiter shareholder. Mr Mende has experience in the global steel and coal industries, both in Australia and in South Africa. He has served on the board of many resource companies. On the same date, Mr Mende nominated Mr Brian Beem as his alternate. Mr Beem is Managing Director of AMCI Group and has led numerous investments within their portfolio and serves on several of their boards. 
We can be sure they would be looking after their own interest as well as ours.
Spinoff:
JM just announced that they would be spinning off their iron ore asset which had been sitting on their balance sheet. The new company will be led by their ex-CEO Greg Durack, the development of Mount Mason will be fast-tracked, and creative options will be explored to advance Mount Ida (whatever that means..).
Finally Dividends:
Jupiter Mining's dividend policy is to pay out at least 70% of net profit after tax but they have paid out over 90% to shareholders.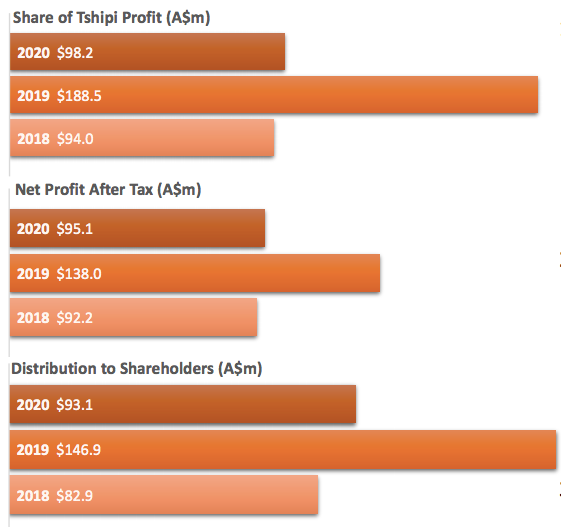 If they are going to continue to do such dividend payout, we will expect a healthy dividend yield even if the profit is not as strong for 2021.
Visibility:
The Board of Tshipi é Ntle Manganese Mining Proprietary Limited ("Tshipi") has declared a dividend to its shareholders of ZAR330 million for the first half of FY2021. Jupiter will receive ZAR156 million (approximately A$12.7 million; net of withholding tax). Jupiter will also receive ZAR25 million (approximately A$2 million) in marketing profits.
That is a substantial drop in profit from previous years but we will expect some form of normalisation of profit as the South Africa exit from the lockdown in the second half.
Risk:
There is multiple risk involve here, which include
South African Rand increasing against the dollar which will decrease JM profit

prices of Manganese dropping

spinoff of the iron ore asset does not happen
Upside:
The risk for this investment is much higher and thus we do not recommend a high weighting. But at the same time, we recognise that the stars are pretty aligned.
We believe that
the upcoming spinoff has high chance of happening

normalisation of earnings will likely happen in the 2nd half of the year

there would still be some dividends coming through at the end of the financial year which should boost returns
---
Average Purchase Price: AUD 0.28
Current Price: AUD 0.28
Holding Period: 1 year
Catalyst: Waiting for
normalisation of earnings for the 2nd half

year end dividend declaration

spinoff/IPO to be recognised by the market
---
Disclosure: At the time of publishing Wee Hiang has a position in the above company. Holdings are subject to change at any time. This report, and disclosure, should not be considered to be a recommendation.