Discover more from Weighted
Investment news, thought pieces and companies research in Asia and occasionally - Beyond!
Building a "Unrecognised Growth" Portfolio
From 2-3X to 10X and hopefully 100X...
In 2014, we are having trouble finding interesting companies to purchase on the Singapore and Hong Kong stock exchange and we moved our focus across the causeway.
In 2015, we made a trip up to Kuala Lumpur (KL) to attend an investment conference where a few CEOs presented and we discovered Vitrox (KLSE: VITROX).
Vitrox is a Automated Testing Equipment (ATE) maker based in Penang.
Steven Siaw - Co-founder and Senior Vice President presented for Vitrox and we are duly impressed with the business model and it's management.
But alas, Vitrox is already well discovered and fairly valued. We decided to plunge ahead and buy a small stake in Vitrox (@ MYR 2.89) believing that the growth prospect had not all been factored in. It has been a fine ride…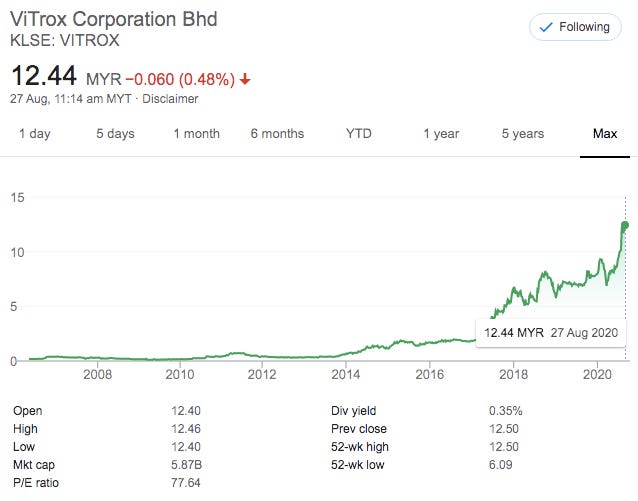 Because of this understanding on Vitrox, we started to look at all the listed ATE makers in Malaysia.
Companies include
Elsoft Research Bhd (Elsoft),

MMS Ventures Berhad (MMS)

Pentamaster Corporation Berhad (Pentamaster)
In the end, we bought almost every company in the Malaysia's ATE sector. The most important of them is that we bought Pentamaster at MYR 1.3.
Pentamaster continue to grow rapidly both on the topline and bottomline. Due to all the stock splits that had taken space, the cost per share for Pentamaster had fallen from MYR 1.3 to MYR 0.27.
Question we have been asking ourselves:
Should we sell when the share price hits a ten-bagger*?
"Selling your winners and holding your losers is like cutting the flowers and watering the weeds."

– Peter Lynch
For the other categories of investment**, we will continue to sell when the investment hits fair value and beyond.
After investment like Pentamaster, we are itching to see more 10 - 100X investment.
Going forward, we had included a category known as "Unrecognised Growth".
View this like venture investing on the public market. We expect the batting average to be lower but the overall outcome to be satisfactory***.
If you like what we are sharing, do click the button below to share this article with your friends.
Disclosure: At the time of publishing Wee Hiang has a position in the above companies. Holdings are subject to change at any time. This report, and disclosure, should not be considered to be a recommendation.
*A ten-bagger (10X) means that if you have invested $10,000 into a single share, it would have become $100,000 at the end of the period. A hundred-bagger would be a cool $1,000,000!
**To understand our category of investment, please take a look at our previous article on our investment data and learnings.
*** Take note that this category is new, our track record is short and our process is work in progress.