Discover more from Weighted
Investment news, thought pieces and companies research in Asia and occasionally - Beyond!
Building a Special Situation Portfolio #1
When a company issue a right issue... And all stakeholders become aligned.
Question: So which Singapore Exchange company has the highest dividend yield in 2020?
It is an obscure company - the one and only shipping trust listed on the SGX since 2007 known as First Ship Lease Trust (FSL)- SGX: D8DU. For 20194Q and 20201Q, a dividend of USD1.5 cents (SGD 2.1 cents) had been announced for each of the quarter. If you had subscribed for the rights at 4.5 cents in June 2019, you would have gotten a consecutive 46% dividend yield for 2 quarters (92% return in 6 months), getting back most of your investment with a ship operating business thrown in for free.
During the rights offering to the subsequent lowering of the debt and the improvement of the shipping market, there is multiple chances to purchase FSL at SGD 4.5 cents - 6.0 cents but it seems that everyone is only interested in selling. To understand why, we will needs a bit of history lesson to understand why this had happened.
Business Trust.
Business Trust was introduced into Singapore in 2006. Pacific Shipping Trust is the first business trust to list on the SGX. During 2008, business trust yield (around 7% - 10%) are seen as attractive and many retail investors are attracted to them.  But by 2012, most of the business trust are underperforming with journalist calling for a tightening of rules on business trust.
As for the sub-category of Shipping Business Trust, Pacific Shipping Trust was delisted in 2012 and Rickmer Maritime was wind down in 2017 leaving First Ship Lease (FSL) as the only Shipping Business Trust listed on the SGX.
Shipping business trust as a category had destroyed a lot of capital and a lot of investors as well. Just imagine you had bought in 2007 expecting a 10% yield, and by 2018, you are left with 8 cents on a dollar.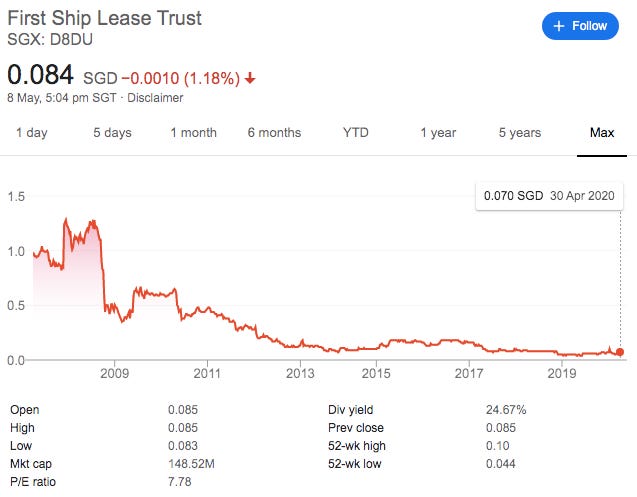 Unloved stock
The start of research often depends on the fact that a sector is so unloved that price and value diverged.
The news that there is going to be a change in trustee manager for the trust piqued our initial interest. The initial filing shows that the new owners are shipping executives and they are interested in the trust and it's assets. If someone is interested in a sinking ship, our guess is that the ship is not sinking (or we can all sink together). The new owners seems aligned with the shareholders. They had extended loans to the trust, started to sell tankers to increase cash holdings and most important of all, they are actively renegotiating the loans and reducing debt. They seem to be doing all the right things until...
A rights offering at SGD 4.5 cents finally broke the camel's back for most of the investors who are the initial shareholders of FSL. FSL is sold down to SGD 4.5 cents and is valued at a fraction of the ships value. While most investors are vexed over the rights offer, the raising of SGD 43 million is obviously very beneficial to the trust and its operation.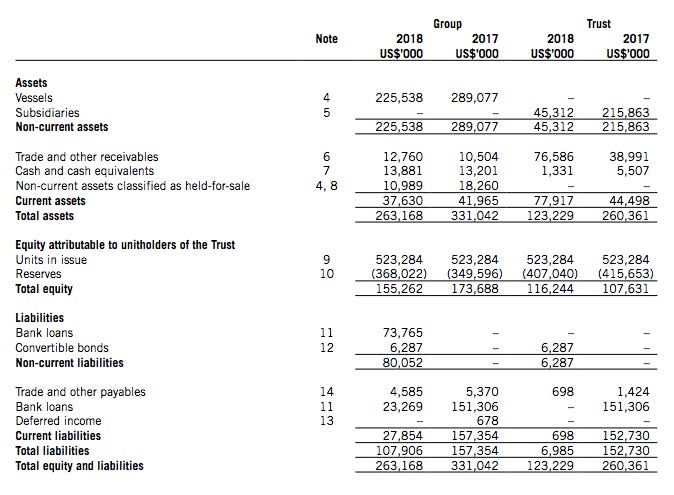 If you look deeper into the cash flow statement, you would have noticed that the trust is actually generating free cashflow (USD 37m) that it could be using to pay down debt in 2 - 3 years time if it is not wind down by the bank. While it continues to do badly on the income statement level, the survival of the trust is not even in question if the rights offering is completed.
‍Subscription to the rights offer
The rights offer is under-subscribed and the new trustee-manager become a majority shareholder of the trust. Even after the rights offerings, FSL continue to languish at SGD 4.5 - 6 cents until their surprise USD 1.5 cents (SGD 2.1 cents) of dividends. It is a investment that had paid off handsomely if you had kept your rationality and subscribed to the rights offering.
Interested in more investment like this?
If you are interested in more Special Situation investment ideas, do subscribe to our premium newsletter.
Disclosure: At the time of publishing Wee Hiang has a position in the above company. Holdings are subject to change at any time. This report, and disclosure, should not be considered to be a recommendation.