Discover more from Weighted
Investment news, thought pieces and companies research in Asia and occasionally - Beyond!
Back to the Future #3: AdvisorShares Pure US Cannabis ETF $MSOS
When the future is clear and the price had halved
In my post on 21st September 2021, I wrote
"I am ready to average down when the price falls. So be ready for prices to fall by 50%."
Now with the price at 50% lower from USD 30, fear is at the maximum level?
RISK:
The only risk that is inherent within $MSOS structure is the swap agreement with the counter-parties.
It is well explained here. That is something that is holding me back from going all in on my allocation.
The potential growth of the industry looks sustainable and I cannot help but continue to double into the industry.
---
If you want to revisit my quick take on the industry, do click on the link below.
---
With WSJ chiming in on the valuation and growth of Cannabis stocks, you know that sentiment is against it.
With similar profile like cigarette (nicotine) or alcohol, this is a product that people should be consuming for a very long time…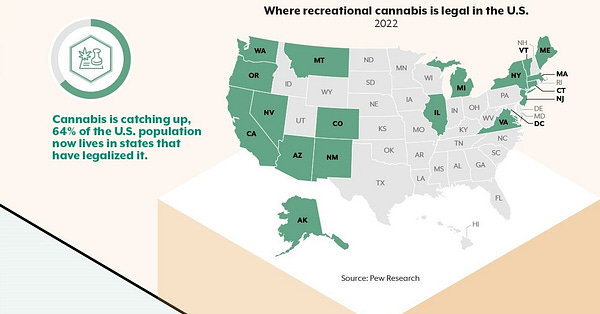 visualcapitalist.com
Cannabis and Alcohol: An Industry Comparison
Like alcohol in the past, cannabis is entering a new era away from prohibition. How do they compare and what can cannabis learn from alcohol?
The infographic below (click on the image) should give you a good visual overview of the industry compared to alcohol.
---